Senegal - completed projects
The projects of the association are split by sub-branches: Dakar (main ,sub-branch), Saint-Louis and Djilor (secondary sub-branches).
From 2015, the projects are focused on the area of the "Siné Saloum" lakes, through the Djilor branch.
Here are below a few examples of microcredits in the Senegal.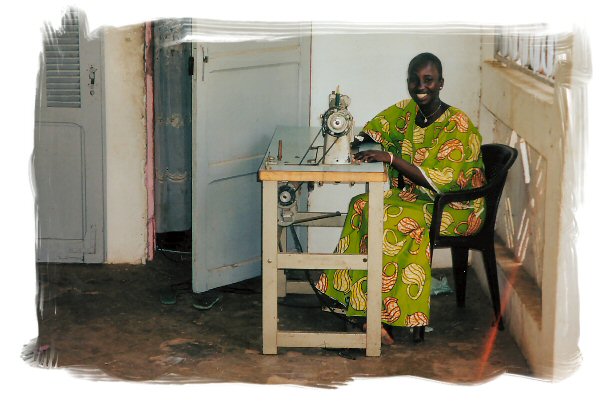 Sewing workroom:
Many women between 15 and 45 years old benefit from the project in different farming regions around Senegal.
This project allows them to raise the level of training, to learn a profession, to diversify and increase their income, and to improve the nutritional state of the community, the hygiene of the area, and to help in keeping the children healthy.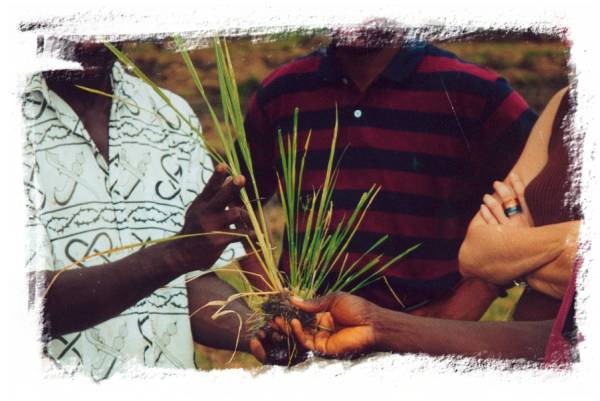 About ten projects deal with rice culture and rice trade. Rice is the basis of Senegalese diet and is a source of important income. Also, other projects support market gardening: tomatoes, millet, onions, ….. More than 500 women living in various farming areas benefit from these projects.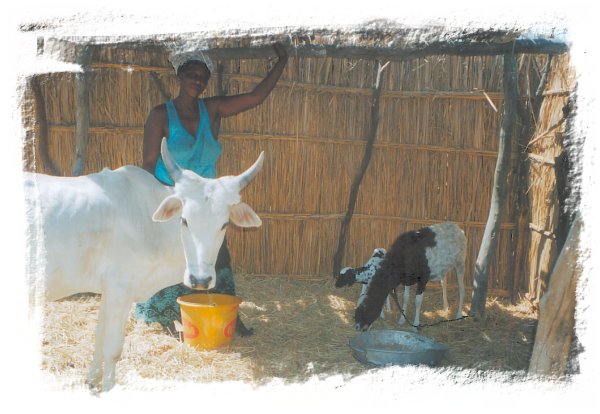 In Thilène ( 146 km from Dakar), 60 women set up an association to promote agricultural sub-products, and started with a business of cattle fattening to supply enough good quality meat to urban centres like St-Louis, Richard Toll and Ross-Béthio.
These women benefited from a loan of FCFA 940'000.- (CHF 2'400.-).
Similar projects were initiated in the rural community of Ross-Béthio, an area of more than 50'000 inhabitants divided in 24 villages: GRAFE deals with more than 2'000 sub-micro-credits in this area.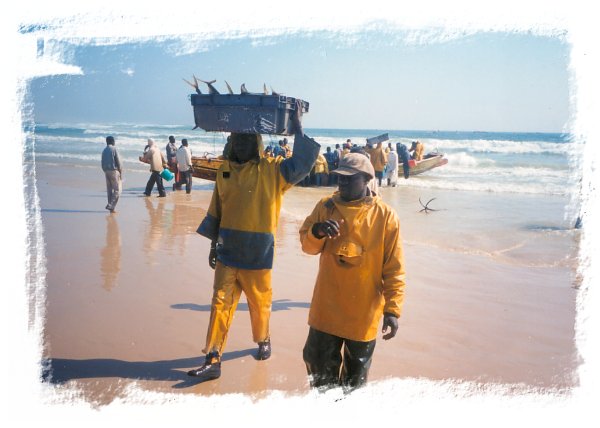 Fish-drying ovens in Mar-Fafaco village. This micro-credit aims at improving the quality (mostly sanitary) of the fish processing work, and at saving energy with a very simple technique (drying and smoking on wooden riddles).
The two main beneficiaries of this project have created 10 new jobs. GRAFE granted a microcredit of FCFA 1'280'000.- (CHF 3'200.-).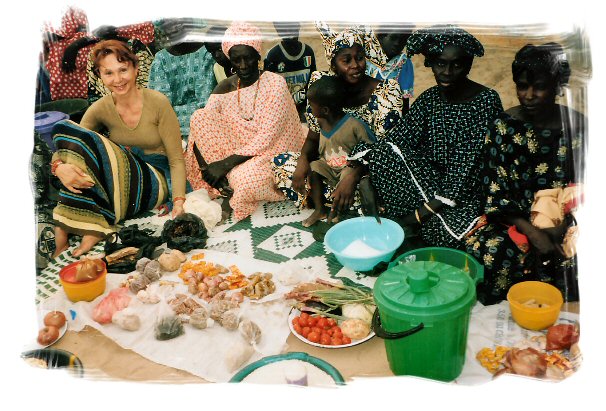 Several food or goods markets also benefit from microcredits, which allow many women to earn their own living.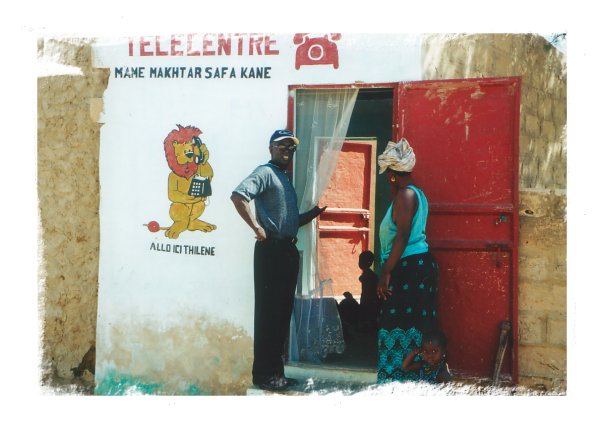 A telecentre project has been initiated at Thilène in the region of St-Louis area. Two jobs were created. The microcredit amount was FCFA 1'518'000.- (CHF 3'800.-).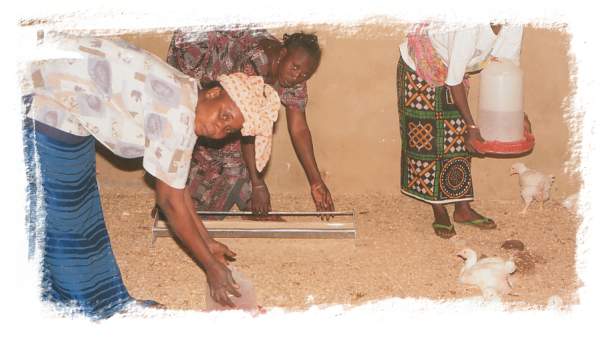 Aviculture is also very important for the rural population of Senegal. In Samba Dia ( 100 km from Dakar), Thilène ( 146 km from Dakar) and even in Dakar, hen houses are installed. They are expected to improve the nutrition coverage of children and pregnant women, and to allow those who can read people to use their knowledge in their daily life (management of the houses, documentation).
In Thilène more than 40 women are involved in one of the projects support by GRAFE with a microcredit of FCFA 724'800.- (CHF 1'800.-).
This project allow the purchase of a donkey-cart for passenger transporti in Touba.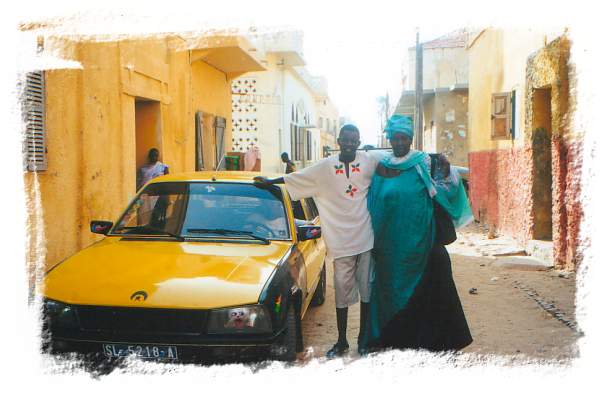 Other project in urban areas:
Purchase of a taxi in St-Louis: a loan of of FCFA 1'500'000.- (CHF 3'700.-) allow the beneficiary to buy the vehicle. This project naturally aimed at improving the living conditions of the borrower and his family, since his job, as a teacher, did not generate a sufficient income.
Restoration and textile shop in Samba Dia. Ine beneficiary was granted a microcredit of FCFA 16'000.- (CHF 400.-).
Fresh vegetable stall in the market of Grand Dakar.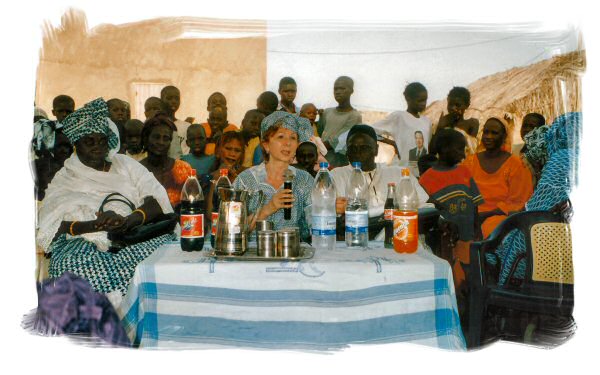 Meeting of about a hundred women coming from 24 villages in Ronkh.